Design features
Energy efficient (EFF1 and EFF2) motor and optimal fits based on the pump dimensions provides trouble free operations. This model comes with bigger series of bearings on the drive end and non drive end when compared to the standard motors
Alignment
Concentricity between pump and motor is within 20microns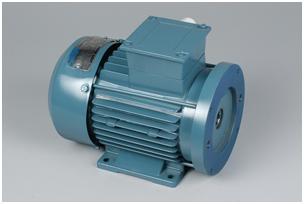 RANGE: 0.25HP TO 30 HP
VOLTAGE:220V/415V/670v/48V/42V
SPEED: 2880/1440/960
Class of insulation: F
Mounting: foot, flange as per IS2223 and IS 1231 and custom built on request
Degree of protection: IP55 standard
PUMPS: Stark Motors Hollow Shaft Motors Are Designed Generally to Suit all brands of hydraulic pumps
Hollow shaft flange mounted motors

| | | | | | | | |
| --- | --- | --- | --- | --- | --- | --- | --- |
| Frame | HP | Flange | P | M | N | S | L |
| 71 | 0.5 HP | F130B | 160 | 130 | 110 J6 | 10 | 200 |
| 80 | 1.0 HP | F165B | 200 | 165 | 130 J6 | 12 | 230 |
| 90S | 1.5 HP | F165B | 200 | 165 | 130 J6 | 12 | 240 |
| 90L | 2.0 HP | F165B | 200 | 165 | 130 J6 | 12 | 265 |
| 100 | 3.0 HP | F215 B | 250 | 215 | 180J6 | 15 | 300 |
| 112M | 5.0 HP | F215 B | 250 | 215 | 180J6 | 15 | 325 |
| 132S | 7.5HP | F265 B | 300 | 265 | 250J6 | 15 | 358 |
| 132M | 10.0 HP | F265B | 300 | 265 | 250J6 | 15 | 398 |
| 160M | 15hp | F300 B | 350 | 300 | 250J6 | 19 | 622 |
| 160L | 20 HP | F300B | 350 | 300 | 250J6 | 19 | 622 |
Hollow shaft foot mounted motors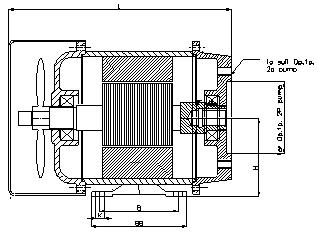 | | | | | | | |
| --- | --- | --- | --- | --- | --- | --- |
| Frame | HP | A | B | H | K | L |
| 71 | 0.5 HP | 112 | 90 | 71 | 7 | 235 |
| 80 | 1.0 HP | 125 | 100 | 80 | 10 | 270 |
| 90S | 1.5 HP | 140 | 100 | 90 | 10 | 290 |
| 90L | 2.0 HP | 140 | 125 | 90 | 10 | 315 |
| 100 | 3.0 HP | 160 | 140 | 100 | 12 | 360 |
| 112M | 5.0 HP | 190 | 140 | 112 | 12 | 385 |
| 132S | 7.5HP | 216 | 140 | 132 | 12 | 438 |
| 132M | 10.HP | 216 | 178 | 132 | 12 | 478 |
| 160M | 15Hp | 254 | 210 | 160 | 15 | 580 |
| 160L | 20 HP | 254 | 254 | 160 | 15 | 622 |
| 180 L | 30HP | 279 | 279 | 180 | 15 | 795 |

SMV series of vibrator motors are specially developed for variable individual application to suit all working environments.
The vibrator motor develops centrifugal force from 5 kg (50 N) to as much as 6000 kg (60000 N)..
Higher and non standard rating vibro motors on request
Technical Specification
Bearings: Spherical Roller as optional upto 2 HP
Material: C.I. Grade 25, Spheriodical C.I & Steel ( Optional), SG Iron
Power Supply: Vibrator motors are suitable for 220V – 1Ø, 415V -3Ø, and 50 / 60 Hz. Power supply
Operations  S1, S4, S7
Mechanical Protection: IP 44, IP 55, IP 67 (on request)
Electrical motor: Energy Efficient motor with vaccum Impregnated stators. An extra moisture proof coating is provided on the status for improving the mechanical strength .
Insulation Class: Class F ( 155°C ), Class H ( 180°C ), Class H(on request) can also be supplied.
Drive Shaft:  This is made of treated steel alloy able to withstand high stress
Eccentric Weights: Each vibrator is supplied with one or two weights on each side as per the requirement of centrifugal force.
Casing & Bearings
Casings made of high graded CI (Grade 25) and cast steel castings are also available. The bearings are exclusively supplied by SKF for vibro motor applications.
Thermal protection
Thermistor of class F (155°C) available on request.